Thank you for joining us for our 4th Annual atTAcK addiction Gala...
At our 4th Annual "Be a Hero Gala", atTAcK addiction we honored Matt Denn, Attorney General for the State Of Delaware.
When:  Thursday, October 18, 2018
Time:  6:30pm-9:30pm
The Executive Banquet Center 
205 Executive Drive
Newark, DE 19702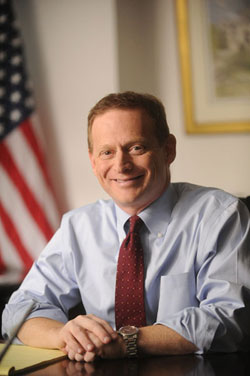 Attorney General Matt Denn took office in January 2015, and has focused on the issue of reducing violent crime in Delaware. He proposed a plan for more police officers on patrol in Wilmington, legislation to crack down on young people caught with guns, and proposed using bank settlement funds for programs addressing crime along with the root cause issues of addiction, education, reentry and housing. He also established a new Office of Civil Rights and Public Trust.
A long-time advocate for Delaware's children and a proponent of small businesses, Attorney General Denn helped improve Delaware's public schools by leading efforts to improve recruitment of outstanding new school teachers, encourage more efficient spending of tax dollars by school districts, provide better services to schoolchildren with disabilities, and expand parental involvement in schools. During his time as Lieutenant Governor, Matt also led efforts to create one of the nation's most comprehensive developmental screening programs for infants and toddlers, create a new health insurance program for children of low income working parents, and expand the number of families willing to care for children in foster care. He worked closely with former Governor Jack Markell on the Governor's landmark early childhood education program, and was part of the Governor's financial team, helping balance four state budgets during the worst recession in almost a century.
Award Presentations
Medal of Honor – Awarded for going above and beyond the call of duty in the war against substance use disorder   Matt Denn
Blue Heart Award – Awarded for the sacrifice in the war against substance abuse and the drive to continue to change the future – Josh Gamaitoni
Distinguished Service Award – Awarded for their significant contribution toward the mission of atTAcK addiction. – Barbara Moore and Kevin Zeigler
Medal of Valor – Awarded for their strength to maintain sobriety while working to help others – Mary Owens and Ron Romine
Courage Award – Awarded for demonstrating outstanding courage in leading others in the war against substance abuse disorder –Merv Daugherty
Unsung Hero Award – Awarded for selfless commitment and contributions to atTAcK addition – Valerie Tickle, Ann Wolf and Gail Humes
Persistence Award – Awarded for tireless dedication to driving awareness and change toward substance abuse disorder – Brittany Horn
What we do with fundraising dollars
Passed  "The Kristen L. Jackson & John M. Perkins Jr. Law",  the Delaware 911 Good Samaritan Law (July 2013)
Proud recipient of the 2014 Governor's Outstanding Volunteer Award in Delaware
Awarded the Heroes in Recovery Award in 2014 and 2016
Passed 2 Naloxone bills, "Community Access to Naloxone" and "Police Access to Naloxone" (June 2014 / August 2014)
Completed "Passport to Awareness Event" in conjunction with the News Journal – First statewide Naloxone training  (October 2014)
Led collaboration for Senate Concurrent Resolution 11 supporting school nurses carrying naloxone (April 2015)
Panelist at "Christiana Care Health Summit" with Michael Botticelli, President's "Drug Czar" (June 2015)
Launched formal scholarship program with 5 awards granted yearly (Aug 2015)
Awarded Delaware State Senate Commendation (Sept 2015)
Opened a rent free woman's transition home and a reduced rent recovery home in partnership with Connections  (2015 / 2016)
Proud recipient of the Community Based Award for Alcohol, Tobacco and Other Drugs from the American Public Health Association (2015)
Launched "Realty Tour" education program for children and parents in across Delaware  – Sessions held monthly  (Nov 2015)
Expanded chapters to include all three counties in Delaware (2015)
Governor's appointees to "Overdose Fatality Review Commission (Aug 2016)
Awarded "Order of the First State", the highest award presented to citizens in Delaware (2017)
E-racing the Stigma 5K participation grew from 900 participants in 2014 to over 2500 participants in 2018
Governor's appointees to Delaware Prescription Drug Action Committee (PDAC)
Collaboration on multiple initiatives with Delaware Department of Health and Social Services (DHSS)
Opened a men's recovery home with reduced rent (Mar 2017)
Launched "Right under your eyes" mobile unit for parents in Sussex County (2018)
Purchased  and partnered with the "Burgess House for women" to continue quality recovery  housing in Delaware (2018)